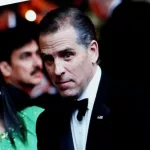 President Joe Biden's son Hunter Biden has been indicted by special counsel David Weiss on felony gun charges. The four-page indictment returned by the grand jury convened in Delaware charges Hunter Biden with three felony counts stemming from his possession of a Colt Cobra 38 special revolver in October 2018.
The first count of the indictment alleges that Hunter Biden "knowingly made a false and fictitious written statement" on a form used for firearms purchases. According to the charging document, the president's son certified on the form that he was not an unlawful user of any narcotic drugs, a statement that was "false and fictitious." As detailed in the second count of the indictment, Hunter Biden allegedly knowingly made a false statement and representation to an unnamed, Wilmington-based firearms dealer. In the third count of the document, he is accused of knowingly possessing a firearm, despite knowing that he was a drug user, in violation of federal law.
Originally the president's son had been charged with two separate criminal informations with misdemeanor tax offenses and a felony firearm offense. The two sides seemed to agree to a plea deal struck in June, which would have allowed Biden to plead guilty to a pair of misdemeanor tax offenses and enter into a pretrial diversion program to avoid prosecution on a felony gun charge. However, that deal fell apart during a court hearing in July after U.S. Judge Maryellen Noreika expressed concern over the structure of the agreement and questioned the breadth of an immunity deal. Hunter Biden ultimately pleaded not guilty to the three charges.
Editorial credit: Domenico Fornas / Shutterstock.com