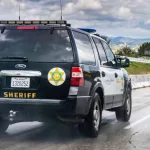 The Los Angeles County Sheriff's deputy said that an on-duty officer was "ambushed" and killed Saturday night while driving in his police cruiser by an unknown suspect. Sheriff Robert Luna told reporters at a late night press conference that Deputy Ryan Clinkunbroomer, 30, was found unconscious in his car at 6 p.m. Saturday night by a good Samaritan at the intersection of the Sierra Highway and Avenue Q.  Bystanders called 911 and Clinkunbroomer was taken to the hospital for a gunshot wound but did not survive.
Luna said they have no theory for the suspect's motive, but it appeared the deputy was targeted because "he was in uniform."  Luna added: "He was just driving down the street and for no apparent reason — and we're still looking into the specific reasons — somebody decided to shoot and murder him." Clinkunbroomer had just left the Palmdale station, ad a a video clip with that shows a car pulling alongside the patrol car before speeding away. Investigators are looking for additional video that may match what appears to be the moment of the ambush.  Luna said: "Detectives are in the initial stages of this investigation and seeking the public's assistance to apprehend this suspect. So I'm gonna continue with my notes, but I'm just gonna pause we really need your help."
Clinkunbroomer, a third-generation deputy, had spent the last year and a half as a field training officer. Luna described the role as one reserved for the "best of the best" in the department: "he embodied the values of bravery… selflessness, and an absolute commitment to justice. Our deputy was a devoted family member and a shared cherished member of our community who was cowardly shot while working tirelessly to serve our community this evening." Clinkunbroomer got engaged just four days prior to his death; he is survived by his fiancé, parents and grandparents.
Anyone with information is asked to contact the department's homicide investigators at 323-890-5500, or share an anonymous tip with Crime Stoppers at 1-800-222-TIPS.
Editorial credit: Sundry Photography / Shutterstock.com