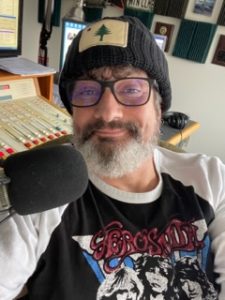 Monday -- 03:00 PM - 07:00 PM
Tuesday -- 03:00 PM - 07:00 PM
Wednesday -- 03:00 PM - 07:00 PM
Thursday -- 03:00 PM - 07:00 PM
Friday -- 03:00 PM - 07:00 PM
Saturday -- 03:00 PM - 07:00 PM
The Guru (a/k/a Brian James) is program director of WTOS, Augusta/Bangor, Maine. He is also the host of "the TOS Hard Drive Home" weekdays from 3p-7p.
The Guru arrived at Blueberry Broadcasting in July of 2021, following a 34 year run on-air in Portland, Maine radio. Blueberry Broadcasting COO, Bruce Biette says, "Brian is a master at His craft. He's a real-deal radio guy."
The Guru says, "This is a dream come true for me. I was born and raised in Maine's capitol city of Augusta, so this is a true homecoming. I spent the first half of my career at a legendary rock station and I'm doing the same for the next half."
The Guru lives nearby the WTOS studios in Augusta with his wife, Sherry and 3 feisty terriers. He is also the father of 2 adult sons, Sam and Carter. 
When he's not on duty at the mountain of pure rock he enjoys:
"Dubbin' around the yahd", seeing live music, and above all…celebrating the best life with family and friends in the great state of Maine.